COMPREHENSIVE EYE EXAMINATIONS
We cover all aspects of vision care
At Barry & Sargent Optometrists, we provide a thorough examination of all aspects of your vision and eye health. Our priority is providing you with the highest possible level of eye care and finding the best solution customised to your individual needs.
When you see one of our optometrists you will have a comprehensive eye examination. We know that everyone has different needs for their vision and lifestyle, and at Barry & Sargent Optometrists we pride ourselves in taking the time to listen. Your appointment will generally take 45 minutes and includes:
Patient interview
This is central to understanding your vision and lifestyle needs, concerns, general health and eye health history.
Assessment of all aspects of vision and your prescription
Our examination will include determining the correct prescription, and assessment of eye muscle movements and co-ordination. Our optometrists will discuss and provide expert advice on the best vision solution options for you. This may include spectacle lens and frame advice, contact lens fitting, vision therapy or lifestyle options such as prescription sunglasses or sports eyewear.
Eye health evaluation
Our optometrists will thoroughly assess the health of your eyes to check for signs of eye disease. This includes important tests such as eye pressure test, visual field screening and digital photography of the retina.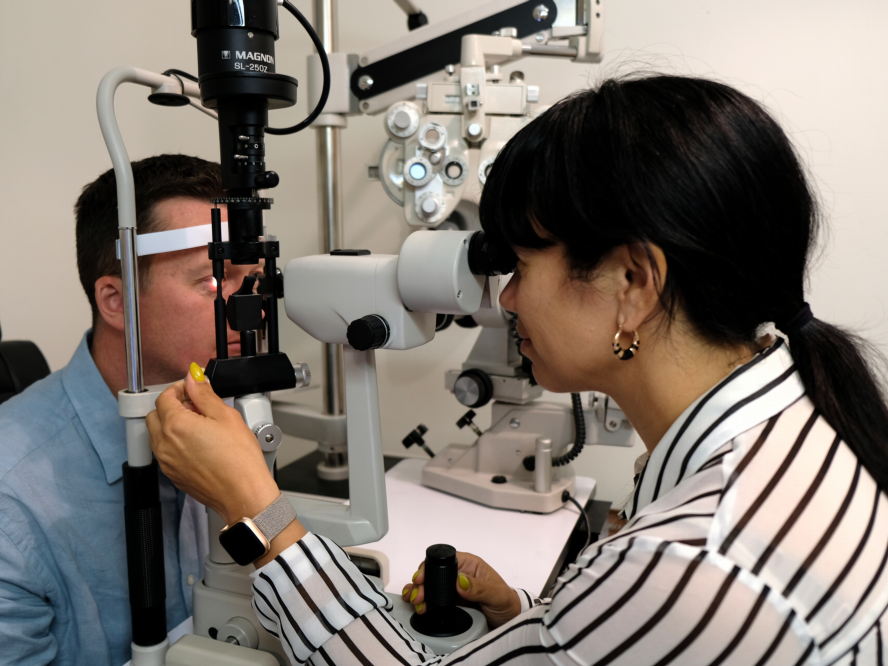 A standard eye exam will involve a thorough assessment to detect eye diseases such as cataracts, glaucoma and macular degeneration.
We can detect a range of eye diseases such as cataract, glaucoma, macular degeneration and retinal disease; and utilise the latest diagnostic technology to determine the best treatment plan. Our optometrists are therapeutically trained to treat certain eye diseases and we can refer you to an eye specialist or eye hospital when required.
Barry & Sargent Optometrists also provide other specialised vision services such as: